Fusion Mineral Paint Transfer Gel & Embossing Paste
Capriole Creative is your one stop shop for Fusion Transfer Gel & Embossing Paste. Fusion Mineral Paint & Homestead House is a well-known brand that was established in 1989. It is a trusted company that provides their customers with the finest ingredients that answer the need of the market for specialty products. All of their products have Zero VOC's and are toxic free.
Fusion Mineral Paint Transfer Gel
Fusion Transfer Gel is a two-in-one solution that allows users to create beautiful decoupage and transfer printed images into paper, wood, or other non-oily or greasy, porous surfaces. You can also apply them on painted surfaces and use them on glass, metal, and a wide assortment of surfaces. You can use this to decoupage an old book or repurpose a decorative plate. There are virtually hundreds or thousands of ways you can use this mixture.
Fusion Transfer Gel is perfect for interior applications. It comes in a 250ml size, and you only need a tiny amount of it for decoupage and transfer gel. A 250ml bottle of this mixture is enough to cover 35 sq feet. It does not require topcoat, but you can apply any topcoat if you desire. This transfer gel has a white colour but dries clear and provides a matte finish or sheen. It has 2-6 hours recoat time and drying time, and completely cures within 21 days. It cleans up easily with mild soap and water, and it can be painted over.
Fusion Mineral Paint Embossing Paste
Fusion Smooth Embossing Paste is an acrylic based formula that was created to add individuality and wow factor to any project. This embossing paste has a thick consistency and is ideal for creating raised effects on stencil patters. This can also be applied to fabric, metal, as well as painted surfaces. It dries pearl, translucent finish that you can paint, glaze or wax over to further enhance your project.
Fusion Smooth Embossing Paste can also be tinted with Fusion's specialty tints including Bronze, Champagne, Copper, Pale Gold, and Silver colours to add beautiful effects on to any piece. This is also very easy to apply. You can apply it using a damp sponge, brush and spatulas. You can even use them with stencils. In addition, you can also try using metal trowel applicators and spread pals. Apart from embellishing raised areas, this smooth embossing paste is also great for giving a piece that contemporary look.
Capriole Creative has a complete collection of Fusion Mineral Paint, Fusion Mineral Paint Metallics and Fusion Milk Paint in Australia. Please feel free to browse through our website for other products from Fusion Mineral Paint & Homestead House in Australia.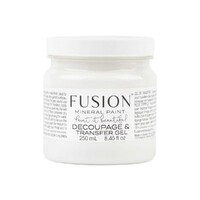 $29.95