Dixie Belle Mousse Highly Pigmented Rich, creamy texture Perfect for some added bling!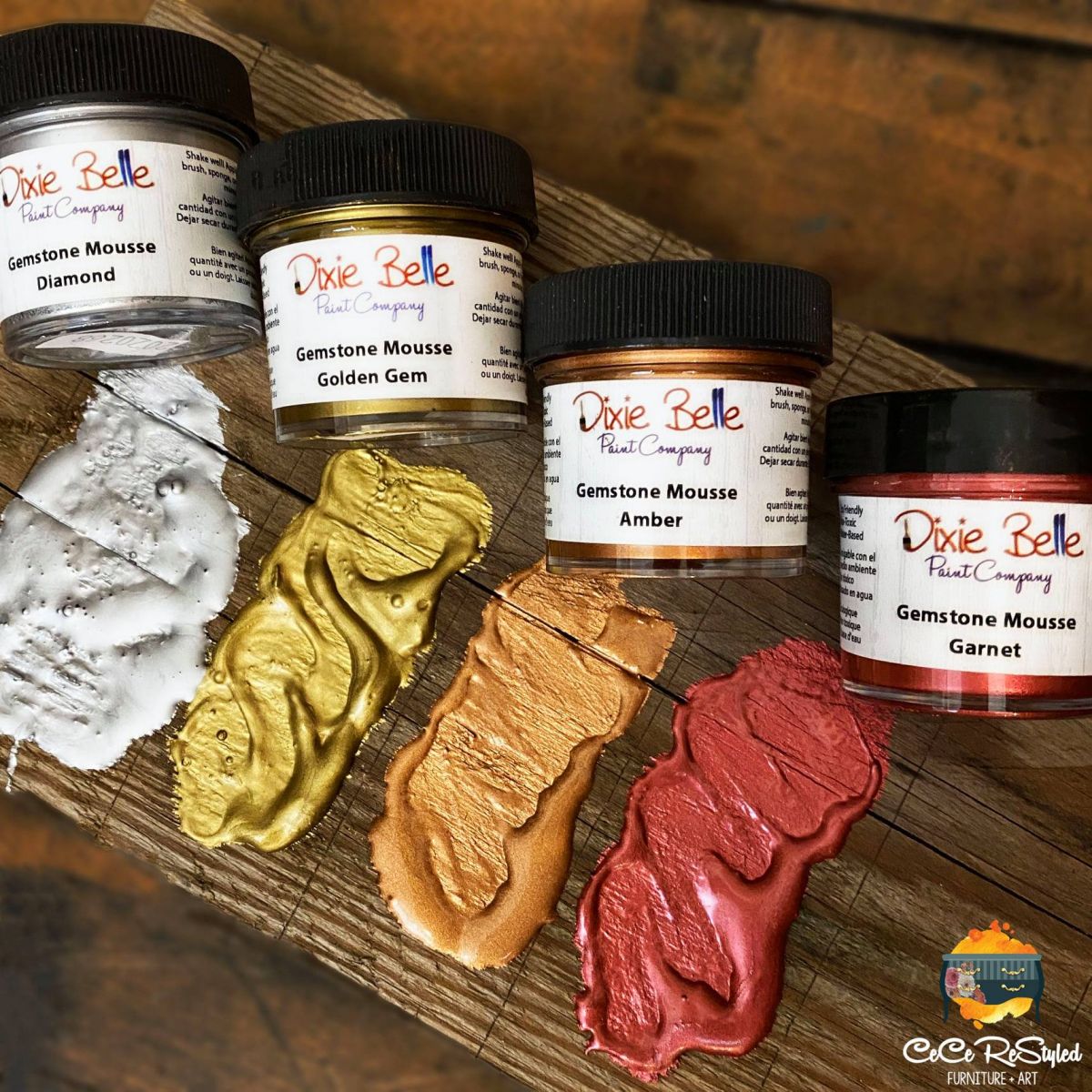 Dixie Belle Mousse is a specially formulated solution that's designed to accent and highlight your furniture and home décor projects. It is a sparkly formula that has a beautiful, thick creamy texture and outstanding opacity that can help take your project to the next level. This metallic Dixie Belle Paint product has a creamy mousse-like consistency, hence the name Gemstone Mousse.
Dixie Belle Mousse is water-based and strongly pigmented. But what's even better is that this metallic shimmer is eco-friendly and non-toxic. This will give you the freedom to get more creative without having to worry about your health and your environment. In addition, a little amount of this paint goes a long way. A 1oz or 28ml bottle of the Gemstone Mousse can approximately cover 10 square feet of surface.
Dixie Belle Mousse comes in four (4) varieties, namely: Amber, Diamond, Garnet, and Golden Gem. It's easy to use. You only need to prep your project as usual, commonly with 2 base coats of paint. You can apply it using a brush or sponge applicator of your choice over mouldings, raised edges, crevices, and bevelled details. Drying time takes about 30 minutes and will completely cure in about 24 hours.
Dixie Belle Gemstone Mousse Australia
Capriole Creative is a perfect place to find Dixie Belle Mousse in Australia. We also house a complete selection of Dixie Belle Paint Co. products from Mineral Paints and primers to Dixie Belle Accessories. Find the best paints & pigments, to ensure the best possible outcome for your projects. We also have a chat applet where you can talk directly to our friendly support personnel if you have questions about Dixie Belle Paint products like the Gemstone Mousse.