Global Binder & Sealer 250ml Medium Professional
$15.95
RRP $17.50
SAVE $1.55 (9%)
or 4 payments of $3.99 with

Info
In Stock
Global Colours Binder Medium and Sealer is a concentrated pure acrylic emulsion which increases gloss and flow effects when added to acrylic paints. Ideal medium for glazing, sealing, bonding, and collage work for in transparency and flexibility. Binder Medium is an excellent medium for the preparation of both rigid and flexible supports, creating a surface which is smooth and easy to paint.
As a sizing coating on canvas, Binder Medium will effectively seal the surface, preventing absorption of paint and moisture into the fabric. The acidity in oil paint can rot a natural fibre canvas. Use Binder Medium on raw canvas to prevent oil absorption from oil paints into canvas fibres. This can be followed by Global Colours Gesso Primer.
Binder medium can be tinted with Global Colours Acrylics to create brilliant translucent effects. Gently mix with water to create an ideal thinning medium which increases flexibility. Can also be mixed in a 1:1 ratio with Global Colours Professional Artist Acrylic paints to create a lustrous, translucent paint with increased gloss and fluidity which is thick and easy to manipulate.
Binder Medium can be worked with acrylics while still moist, as it does not discolour the paint. For a more transparent glaze, increase the proportion of medium to colour.
Binder Medium can be diluted with water to create a flexible finishing varnish or an ideal thinning medium with increased flexibility. Ideal as an extender medium for airbrushing. Can be mixed 1:1 ratio with water to revive unfinished artworks that have discoloured, resulting in a low gloss finish. For a glossier finish us Global Colours Gloss Medium.
This product has adhesive properties so protective clothing should be worn. Do not delay in cleaning all equipment in soap and water.
This medium is compatible with the range of Global Colours acrylics and other mediums, working together to create a highly versatile painting system for all artists. Not formulated for use with other brands of acrylics or mediums.
Available in 250ml jars, 1L bottles and larger sizes upon request.
(GBL-MBI2)
| | |
| --- | --- |
| SKU | GBL-MBI2 |
| Barcode # | 730000000000 |
| Brand | Global Paints Australia |
| Shipping Weight | 0.4000kg |
Be The First To Review This Product!
Help other Capriole Creative users shop smarter by writing reviews for products you have purchased.
Team Recommendations:
Other People Purchased:
More From Global Mediums, Gesso, Sealers, Alcohol, Glue & Tools: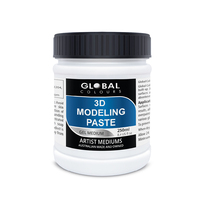 Global 3D Modelling Paste - 250ml Professional Med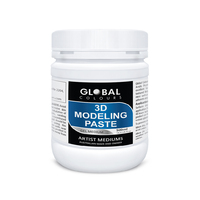 Global 3D Modelling Paste - 500ml Professional Med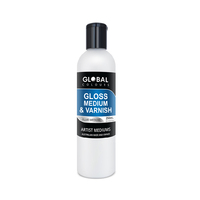 Global Gloss Medium & Varnish 250ml Professional